The 4 Keys to Creating a Stunning Brand Experience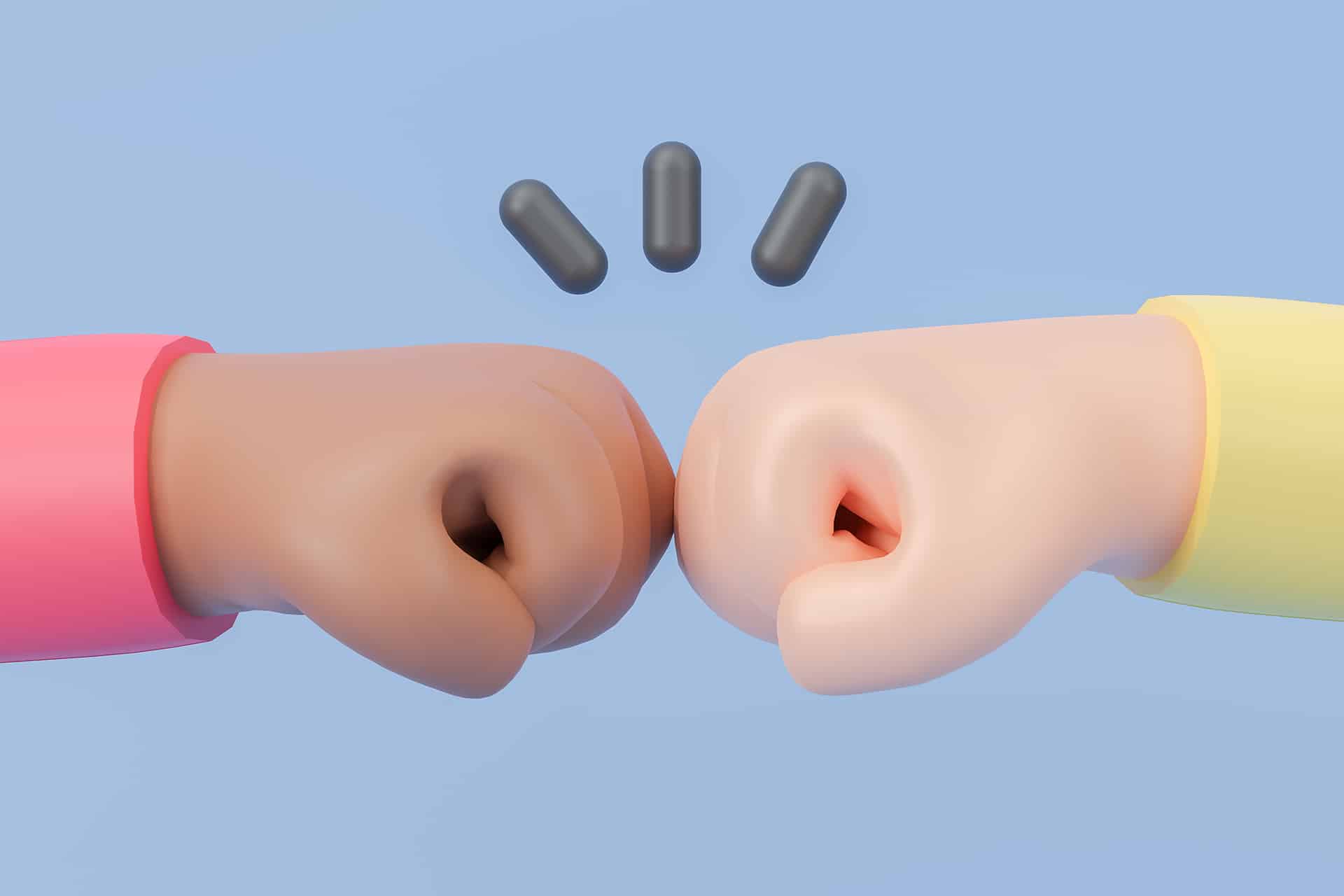 What is a brand – and how do you create a strong brand experience?
We know that elevating the look, feel, and experience of your brand is paramount in order to compete in today's modern marketplace. And while a remarkable brand experience has come to be expected by customers, how do you stand out above the competition and meet these ever-expanding customer expectations?
In this blog, we're going to run you through some of the main elements you'll need to consider when crafting your brand experience across every channel – website, social, print, apparel, among many others.
The main areas we'll look at are:
---
---
Understanding brand basics
Your company is deeper than its logo – and so is your brand. While "brand" is often confused for simply the visual elements associated with a company – its logo, such as Adidas, or its colours, such as McDonald's – brand is actually so much more than just graphics.
"Brand" encompasses many soft elements, such as tone of voice on your website, or how much humour you use in your social media posts (Netflix has been at it for years). It can also involve service elements, such as delivery time expectations (think Domino's order tracker), or the helpfulness of your customer service reps.
In short, your brand is an image a customer has of you in their own mind. These different brand elements such as service expectations, personality, and graphics, all join together in your customer's mind to create your brand. When enough customers think of you the same way, then you have truly established your brand (for better or worse).
A company has almost no control over its brand – however, it can do its best to influence the way a customer sees it, and therefore how the brand will be perceived. This is why it's so important to craft a stunning brand experience from the start and continually improve it over time. So let's talk about just how to do that.
---
Crafting a unique brand personality
Just as we all have our own personalities, so does every brand. And just as an individual's personality affects how others view and interact with them, your brand's personality directly impacts how others view and interact with your business. Leading with an authentic and distinct brand personality directly contributes to retaining more loyal customers, building brand advocates, and creating credibility in your industry.
So what are these elements?
Exciting red, competent blue
The colour palette of your brand is a tangible component that expresses your tone and values. These colours play a huge part in how your brand's personality is perceived. Do you want to give off a more professional vibe or a casual one? Offbeat or traditional? Fun or functional?
Want some guidance? The Journal of The Academy of Marketing Science's "Exciting Red and Competent Blue" is a fascinating study on colour and brand personality. Each with corresponding hues, there are 5 big traits to consider: Sincerity, Excitement, Competence, Sophistication, and Ruggedness. Broken down even further, each colour's saturation and shade can tell us more about a company's attributes.
Looking to associate your brand with sophistication? Consider black, or purple hues. Or if you would like your brand to embody sincerity, consider white, pink or green hues.
Full logo – or favicon?
Another element that shouldn't be overlooked is your logo. First impressions are powerful, and your logo should create a visual identity of your entire business. Is your logo modern, sleek, stylized, or vintage? These elements say who you are, what you do, and what you stand for in a single image.
The style and format – or multiple formats – of logo you use are going to be important. Does it look good in black and white if it's printed in greyscale in haste for a client meeting? Does it fit well on a business card? How about in the footers of your one-pagers or brochures? Is it strong enough – and square enough – to fit in a social media profile, or will you need to design a separate logo (aka "favicon") for those platforms? Putting your logo through these tests – while keeping its personality – will help you find the right balance of design and impact for your business.
We helped our friends at Sport & Social Club develop the look of their brand across many physical and digital assets, including everything from business cards to sweaters, hats to vehicle wrap-arounds.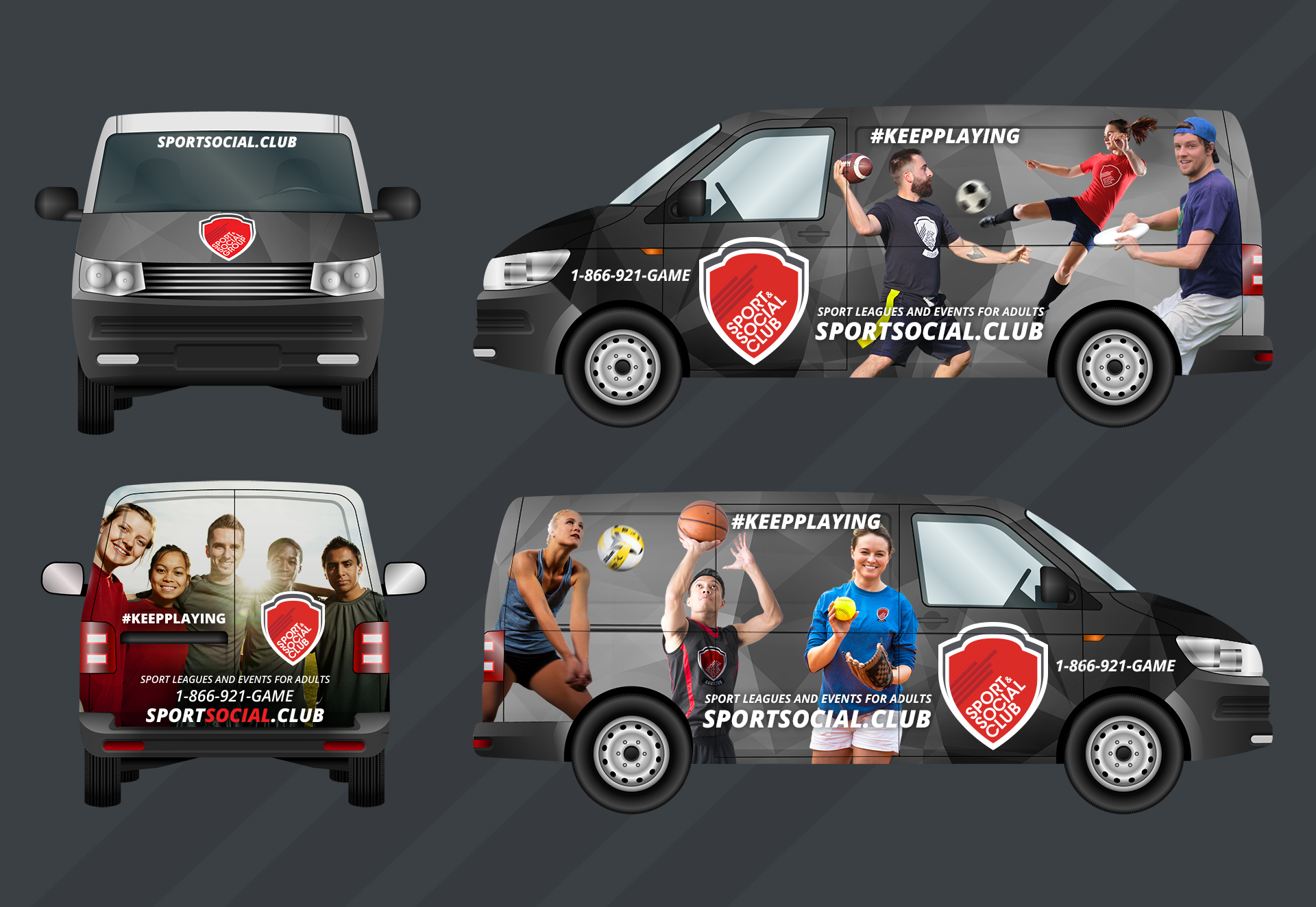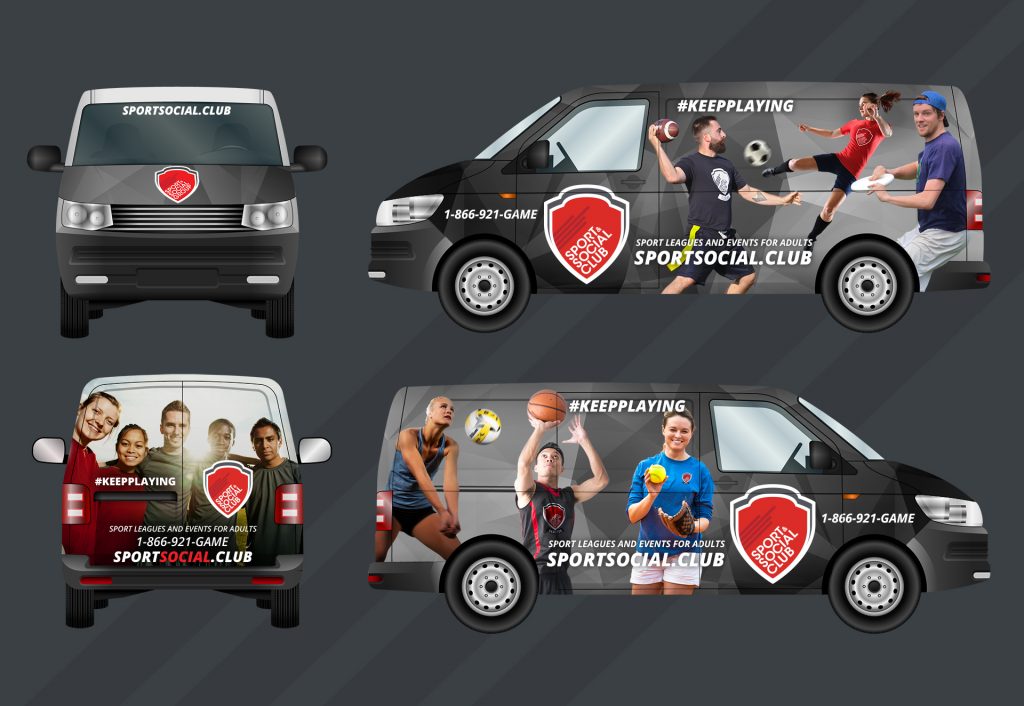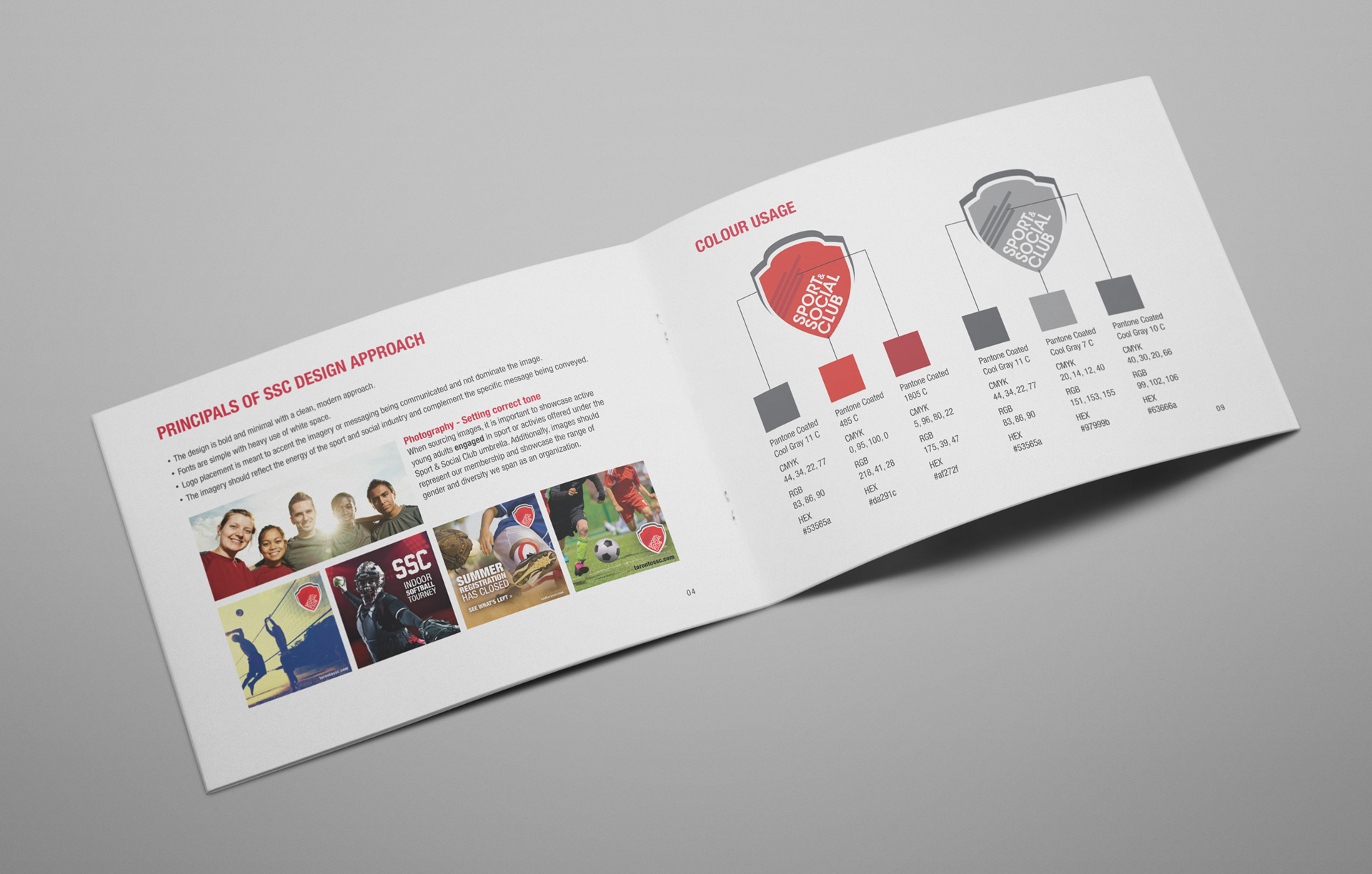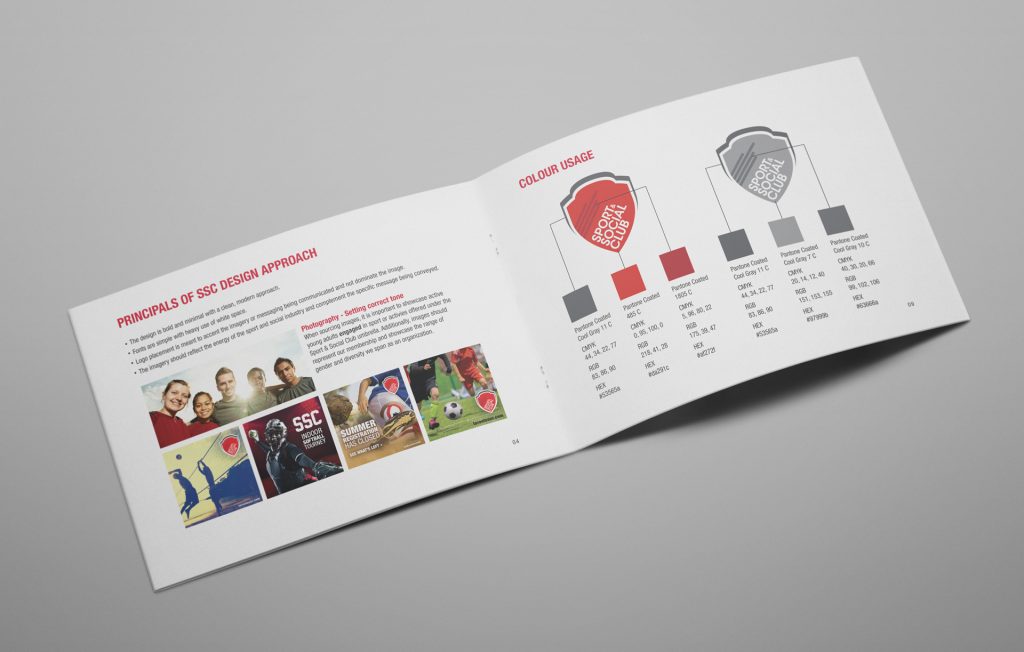 Own your voice
People are drawn to brands that are unique. What you do may not be all that unique – for example, you might sell accounting services. But the way you do it and how you talk about it can be. That's what helps distinguish you from your competition. It's also what draws like-minded customers or clients to you.
Choosing a tone of voice early on – and using it consistently across web pages, blogs, brochures, presentations, posters, ads, emails, and everything else, will help you become memorable and a true voice in the head of your customer.
Build your brand values
Your brand is more than the products or services you sell. Your brand is tied to specific values that are the building blocks of your brand personality. While your logo, products, and website may change over time, one thing must always remain the same: your brand values.
By paying attention to their environmentally conscious consumers, Adidas unveiled a successful campaign turning plastic ocean waste into sneakers and sportswear. Investing in sustainable initiatives like this has been a massive success for Adidas, and is an example of a company going out of their way to deliver on the needs of their customers.
That said, being authentic to your brand values means not aligning with every social issue. Beware of hopping or bandwagoning on whatever issue is currently trending as this can come off as inauthentic or as virtue signaling. It's important that your company can demonstrate how you pursue and create meaningful change on a few chosen core issues that are representative of your brand values.
---
Keeping Things Consistent
It is essential that all the elements that make up your brand speak a uniform language—inconsistency in voice can really hurt your brand and overall customer experience. Apart from perhaps legal, which may have their own requirements, ensure that your brand assets and guidelines are consistent.
Many brands have stumbled through sudden and jarring rebranding efforts that were seen as inconsistent to the brand that loyal customers loved. Examples like Tropicana's disastrous redesign or The Gap's logo rebrand felt like weird choices, and thus, an automatic breach of trust. Relying on a brand to give you a consistent and reliable experience is of the utmost importance to consumers.
Brand experience now reflects every interaction an existing or potential customer has with your business. Whether it's walking into a physical store, organically interacting with digital advertising, engaging with a chatbot hosted on your website, or navigating online self-service content, all of these encapsulate your brand experience.
Is your consumer-facing communication consistent with your brand attitude? Does your customer support employ the same voice as your social media posts do? Do the videos embedded on your website reflect your overall brand personality and approach?
When experienced together, unified interactions equate to your brand promise, what your company stands for, and what sets you apart from competitors. This is why delivering a consolidated and consistent brand experience strategy is inextricably tied to consumer perception, brand loyalty, and ultimately, company success.
---
Setting expectations
With more interactions with consumers happening online than ever before, those engaging with your brand have 24/7 expectations. While listening and responding to your audience is the baseline in today's modern world, acting on what you see and hear from consumers is what makes your brand truly relevant and agile.
Being responsive in your brand experience means going beyond just offering a product or service. Top brands prioritize understanding what a customer thinks and feels, and anticipating how they might behave, to deliver a seamless, friendly experience.
Think about what strategies you have in place that value your customer's time. How do you track speed of service? How fast can your customer service team recall consumer information? Are you leveraging all the tools at your disposal to respond to customers?
Responsiveness defines your personal brand experience. While providing the fastest response possible to customers is paramount, remember to also deliver an experience that is sincere and authentic to your brand. When you provide the correct responses and solutions in a timely manner that is true to your brand experience, you are on track to winning customers for life.
Carry out clear communication
Whatever you're building, be it a product, web experience, or an exciting new app, it is crucial that you tailor your language to your customer. Clear and concise communication helps create stronger connections between you and your customer and the experience you are offering.
When it comes to building your brand experience, pay special attention to the language you use. Whether it's signage, CTAs, in-app notifications, or social media captions, the words you choose matter. When you speak to customers in their own language, it has a profound effect that resonates with them and builds loyalty towards your brand.
Ultimately, brand communications should help foster frictionless, memorable, and perhaps even surprising experiences for consumers. Really think about the needs of your customer and simplify your messaging from there. When you build on the needs of your consumer you're creating a long-lasting positive connection that will fuel future success.
Also note that in today's world there are no safe assumptions. Do you have a keen awareness of current market trends? Did the pandemic drastically shift your customers' needs? Are you integrating your customers' feedback into your brand experience? Successful brand communication is constantly evolving based on the ever-changing needs of the customer.
---
Final thoughts…
In a landscape where the plethora of customer choices can be overwhelming, having a focused and recognizable brand is essential to standing out from the crowd. An effective and remarkable brand experience is a true symbiotic relationship between a brand and its customers—and although the upfront work may be hard, the payoff can be unimaginable.
Need help crafting your brand experience, finding the right logo, or updating your website to match evolving customer expectations? Drop us a line and we can get you where you want to go.