Protecting cells one subscription at a time.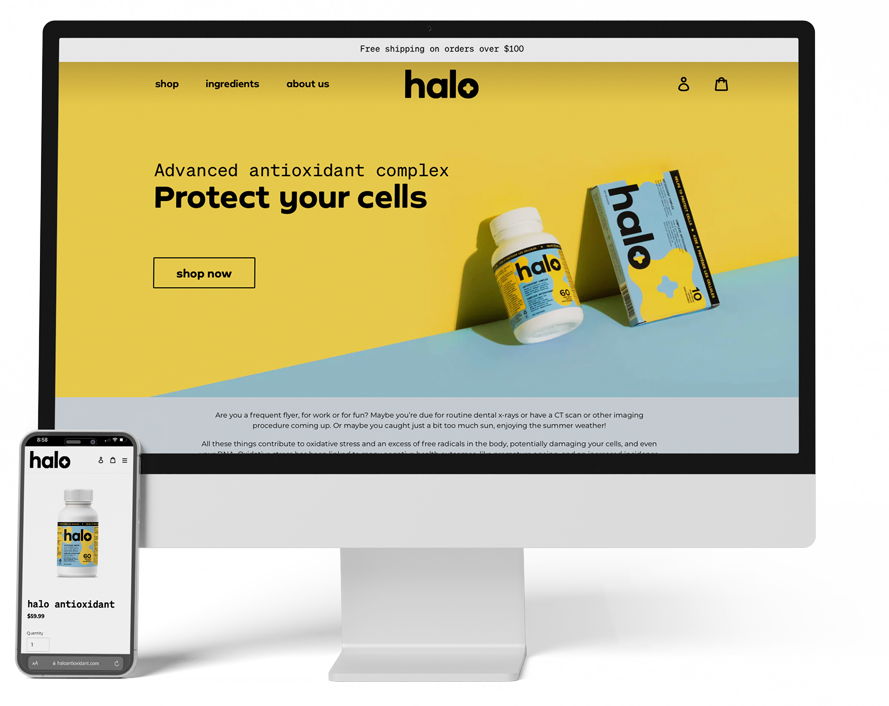 Project Background
Halo Antioxidant is the first product launched by Cora Therapeutics, a company dedicated to delivering innovative, research-based wellness solutions for whole body health. The client needed a two-part launch: one for their corporate site, Cora Therapeutics, and one for their innovative new product, Halo Antioxidant.
After completing the corporate site, we dove head first into bringing their flagship product to life on Shopify. The outcome was a fast and friendly shop geared towards improving their customers' lives with this industry-leading product, and converting more customers to the cause.
Built to go live with their Canadian launch, the site takes advantage of third-party services to help cater to customers in different regions, and provide streamlined experiences for subscription and checkout.
Design. Build. Buy.
Halo Antioxidant is a nutraceutical product developed by physicians and specifically formulated with a range of antioxidants that protects cells against damage and promotes long-term health benefits.
With a product like this, education needs to be part of the overall design. Every site visitor needs to understand what they are shopping for (and why it's something they want) quickly and effectively. The goal is to get shoppers to click "buy" as soon as possible.
Halo's existing design guidelines were carefully created to communicate a fun a playful brand grounded in serious values. While we translated their bright yellows and soft blues to the website, we also wove in clean, clear layouts to allow the reader to easily absorb the more educational aspects of the product, such as the ingredients page.
Bringing this store to life was as colourful as it was challenging, with three goals in mind at all times; make it educational, make it beautiful, and make it sell.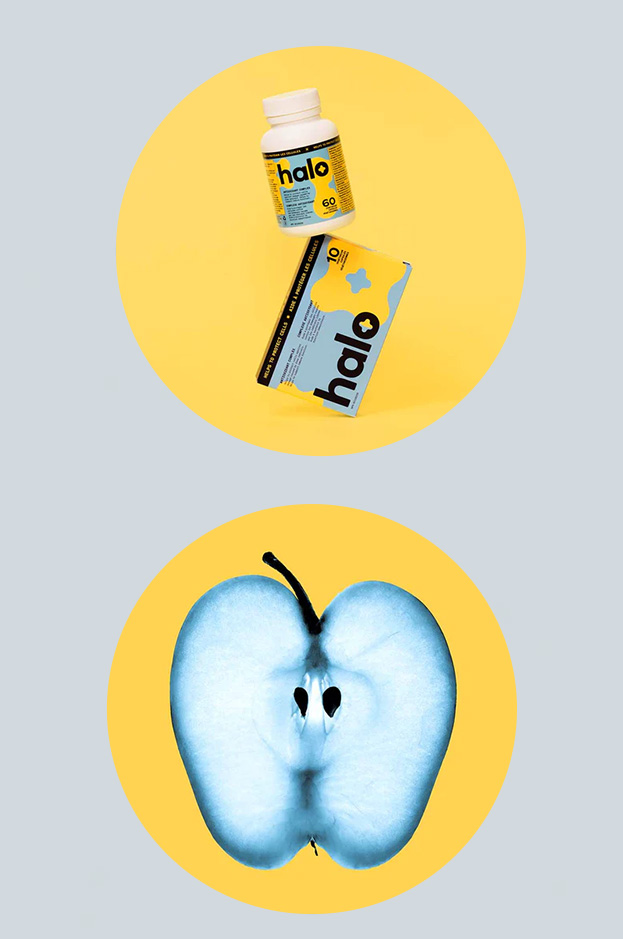 Retention intentions
As a Canadian company, Cora Therapeutics opted to launch on home turf first, with plans to launch in other regions in the coming months and years. However, this meant that even if an international customer came to the site, they wouldn't be able to purchase the product unless it was available in their region.
To avoid losing these potential customers, we implemented geofencing on the website. Through IP-address detection protocols, the site recognizes if a visitor comes from outside of Canada and encourages visitors to sign up for the Halo Antioxidant mailing list for when the product becomes available in their area. This allows Halo to build a list of high-intent customers to market to once their product is available outside of Canada.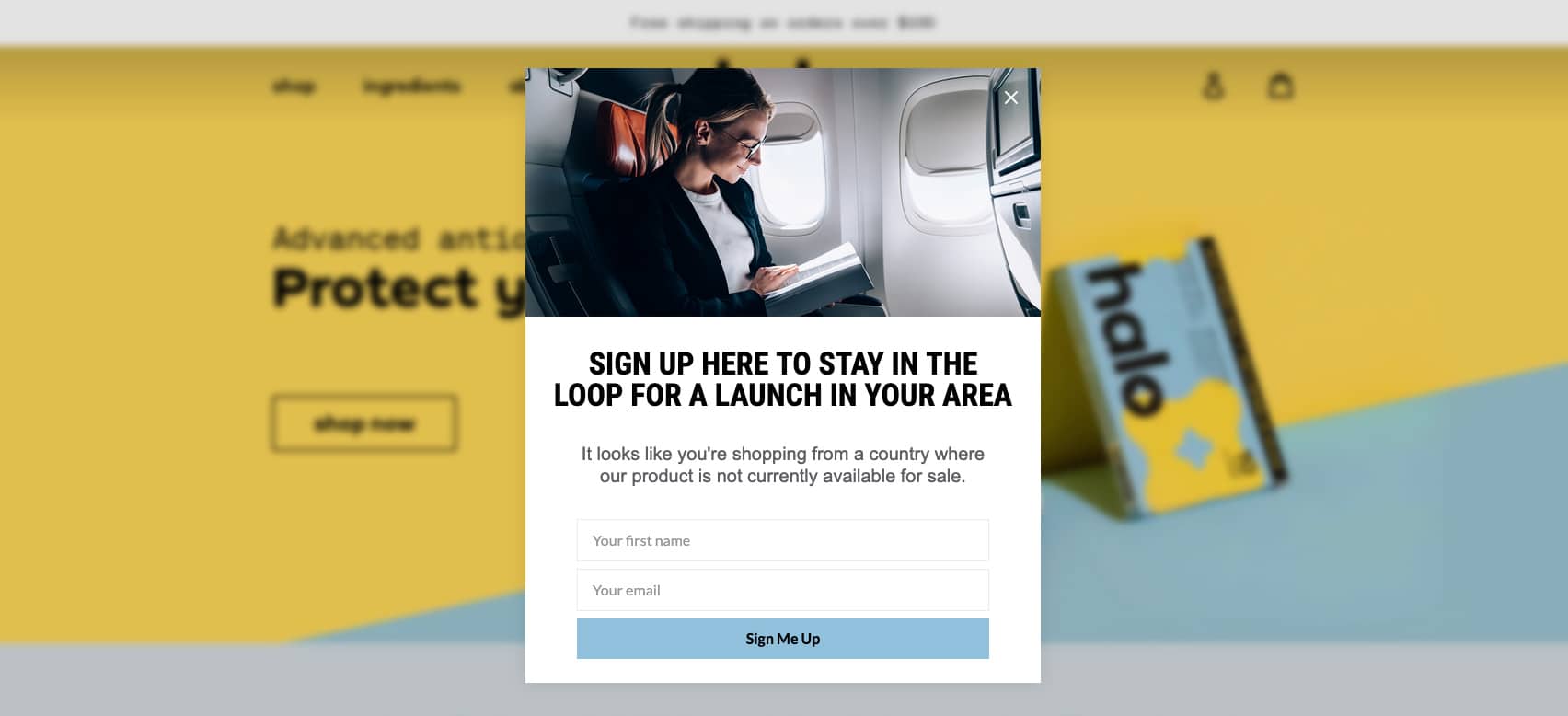 Shopify plugin party
All clever ecommerce stores offer subscription options for their customers, and Halo was no exception. Intended to bring in recurring revenue, this provides regular shoppers with ease and discounts, and provides repeatable revenue for the company.
On Shopify, the features and management of subscription purchase options are largely handled through third-party plugins. Shopify offers thousands of plugin applications for a myriad of uses. When we started this phase of the site build, we became immediately aware of the overwhelming choice of plugins, and set our sights on finding the absolute best option for Halo.
Building a strong Shopify site involves investing time in evaluating the key building blocks for the site – including plugins. Evaluations should consider social proof, install rates, reviews, recurring fees, user friendliness, its ability to fit within your company workflows, and, of course, whether it will do what you need it to do.
Taking a considerate approach to choosing the subscription implementation plugin meant that signing up for a Halo subscription became a seamless experience for the customer and for the company's revenue and fulfillment teams.
Supplements for a long and healthy life
Supplements like Halo Antioxidant are intended to bring your body health benefits and nourishment so that you can live a long and happy life. We approach our working relationship similarly — putting energy, intent, and effort into understanding our client relationships so that we have longevity in projects like this one. We never want to simply be a vendor who builds a website and walks away.
With Cora Therapeutics, we act as an extension of the business, working in partnership to address and achieve goals and milestones through phased approaches to projects. As they roll out into other markets, or need additional features and functionality as the customer base expands, we will be there to help – one digital upgrade at a time.