Helping make heartfelt wishes come true.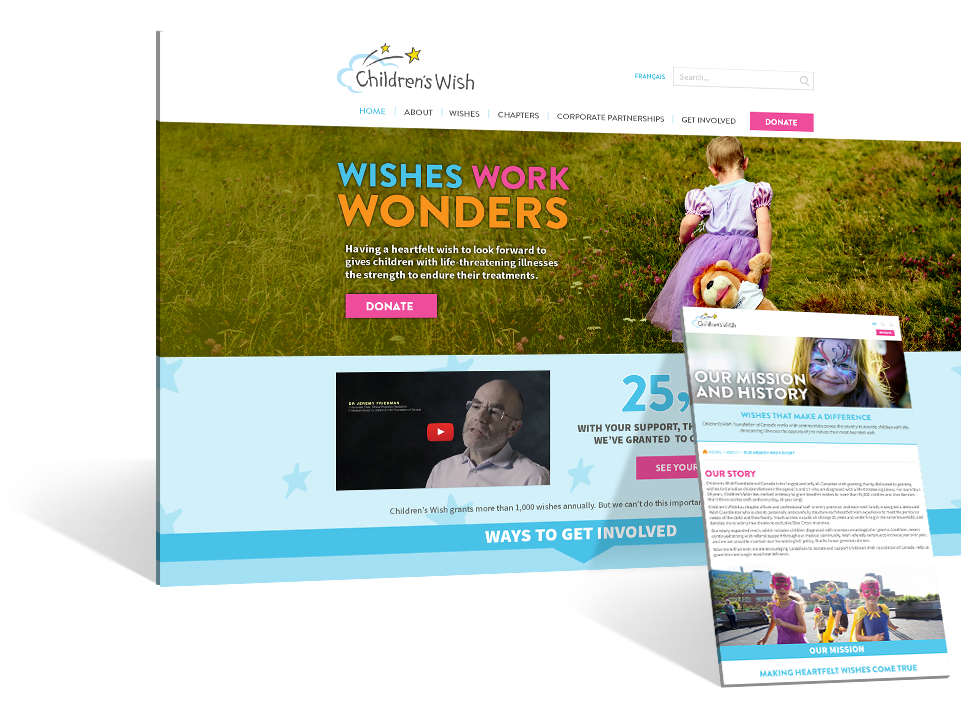 Project Background
The bread and butter of a non-profit organization rests on two factors: donations, and the work that the donations fuel.
Children's Wish focuses on making wishes a reality, but without donations, they can't make the impact that is so dear to them.
Their agency partner, Stephen Thomas, identified a homepage refresh as a key driver for new donations, and they asked us to provide recommendations on the refresh and on a User Experience journey that would increase donations.
Note: Children's Wish have since merged with Make-A-Wish, so the website is no longer online.
A two-phase project plan helped grant wishes faster
After conducting a review of both their existing site and organizational processes, it became clear that the website could be producing better results across a wider range of objectives.
Due to the seasonality of their donations, we prioritized a redesign of the homepage with a new site navigation in two weeks in order to meet the pre-holiday traffic spike. 
As a second phase, we redesigned and developed the website's volunteer intake forms, event calendar, and remaining functionality identified as part of our audit to make it easier for sponsors, corporate partners, and stakeholders to engage with Children's Wish.
Optimizing the experience
While donations are key, donors don't always know how to make the most of their donation or what helps the organization the most. Good website design can help donors understand the value and type of donation with the highest impact, making sure the donations go the furthest for both Children's Wish and the donor.
By analyzing the best practices of other similar non-profit groups' websites, combined with our extensive experience developing sites for non-for-profits, we came up with a design that enhanced the effectiveness of their donation page.
What our client had to say in the end
Lush Concepts delivered great, user-friendly platforms for end-clients. Their work ultimately increased the client's revenue. They stayed on schedule, provided great input, and gave frequent updates on their work.