Differentiating a trusted law firm.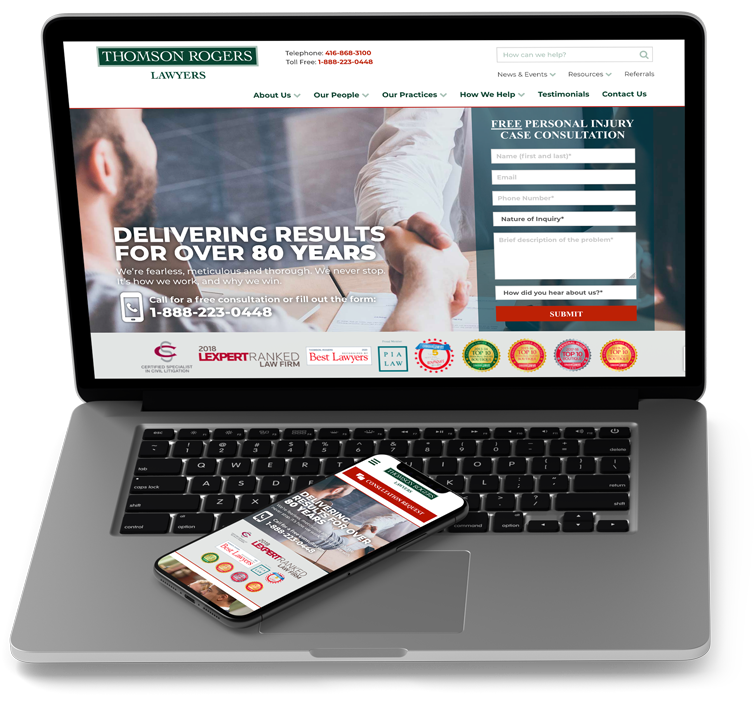 Project Background
Thomson Rogers engaged us and our agency partner Kuration several years ago to help them differentiate their website and brand from other personal injury firms in the market. As a company with roots in the community for over 80 years, they wanted to showcase their experience and the impact their work has made through the years.
After engaging with Thomson Rogers, we outlined a number of priorities for their website, including a homepage refresh, and updates to a number of other site elements that were impacting a visitor's ability to navigate the site.
Key challenges
As a company with deep roots, their website also had deep roots – ones in a legacy code base and design that was making it all but impossible to navigate on mobile, and clunky to load on desktop.
Issues such as speed always have a further impact than on an individual visitor's experience – Google docks your website in search results and it can be hard to climb back up.
To combat these issues, we prioritized interactivity, homepage performance, and navigability, without a rip-and-replace, and while working within their existing site and widgets.
Experience leads the way
With our experience marrying new technology with older infrastructures, we were able to provide them with the functionality to add and update video testimonials and survivor stories, even within older page elements.