20 Years of Lush Concepts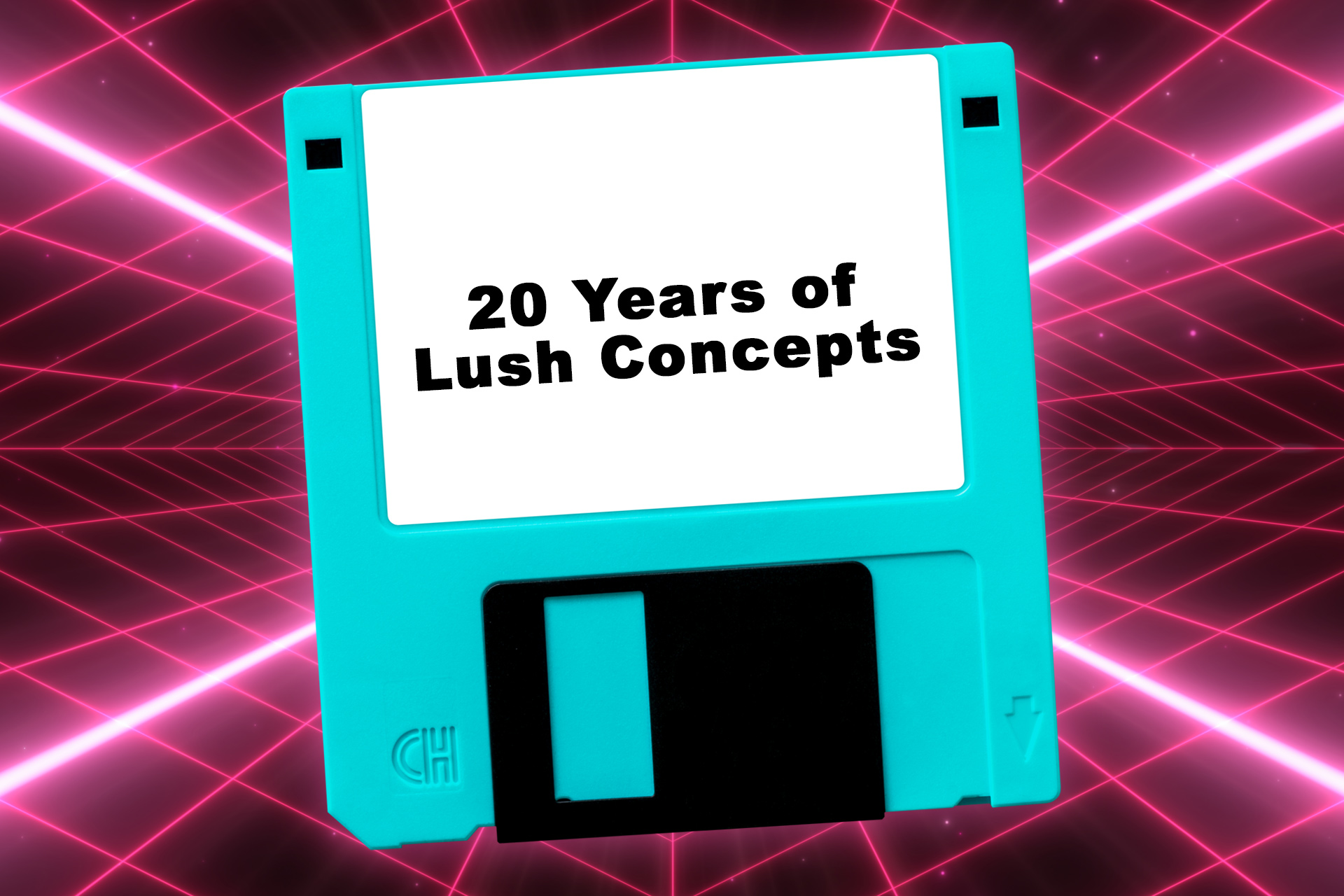 When I started running Lush at my kitchen table in 2001, I could never have imagined the evolution of technology that I'd be seeing in the next 20 years. Even looking back now, I could never have known that at 21 years old I was sowing the seeds for a two-decade career that has come with highs and lows, from freelance to owner, and lasting relationships in between.
To celebrate the 20th anniversary of Lush Concepts, I'm going to take you back in time to some of the memorable twists and turns we've taken along the way, and how we got to where we are now that might inspire your own business or career path.
What web design was like in 2001
Back in 2001, web design was still a nascent field.
The closest thing I could find at college was a course to be a "Multimedia Design Technician." My first job in the field came from a Toronto-based digital shop called Snap Media.
At the time, Snap did a lot of work for CBC Television, and Degrassi: The Next Generation was one of their marquee clients. CBC wanted to do something fun for the show's website. We came up with an experience that gave each user a "locker page". Characters on the show also had locker pages with all their basic info, photos, and changing posts about what they were up to.
Fans would also receive messages from characters from the show called "Degrassi mail," or "D-mail" for short.
Looking back, I realize we had essentially created the Degrassi version of Facebook, but in 2001 when Mark Zuckerberg was still in prep school.
Entering the world of (m)ad men
I was enjoying my job, but watching the dot-com bubble burst in the late '90s convinced me I needed to broaden my skill set to be a more recession-proof employee. So I headed back to school, this time for advertising and graphic design.
When I graduated, I found myself at a crossroads. The school asked me to teach one of their courses after I graduated – which I did – but ultimately I couldn't commit for more than two semesters due to the business workload. I was still freelancing for Snap and taking on other small clients, but I didn't have the confidence to go out fully on my own yet. I was only 21-years-old.
Our very first website 🥳
So I took an internship at the advertising agency MacLaren McCann, building HTML emails for Rogers and Flash banner ads for GM. Evenings and weekends I worked like a madman for Snap and my other freelance jobs.
Launching Lush Concepts
A turning point came in 2006. I spotted an ad for a trade show for entrepreneurs at the Metro Toronto Convention Centre. This was my chance! I bought a table at the conference, whipped up a brochure, and headed to the show, ready to pitch Lush Concepts.
The pamphlet offered attendees a "small business package" of my own design, which included a logo, website, domain, and hosting for a year at a very reasonable price. To my delight, I sold over 20 packages.
And then I had to actually make them! That kept me busy for a while. Between my internship, my work for Snap, my entrepreneur clients, and other clients I'd picked up through word of mouth, I was swamped. It was a year of 16-hour days, getting up at 7 a.m. And hitting the hay at midnight with barely time to eat in between.
It was time to bring in some hired guns. Lush's first part-time employee sat at my kitchen table three days a week as we plugged away at websites, banner ads, branding projects, and other design and coding jobs.
By mid-2008, we had outgrown the kitchen table.
I rented my first office space at Bloor and Spadina, incorporated, officially became Lush Concepts Inc, and hired my first full-time employee.
In those early days, much of Lush's work came from large, established ad agencies like Ogilvy, MacLaren McCann, and Publicis.
These firms were just entering the digital space and didn't have the internal staff to handle the tech side of things – it was the beginning of the golden age of Flash banners, microsites and Facebook games. We came in as the crack team of outside experts who could code and design for the internet age.
It was an arrangement that meant even though Lush was a tiny company, we regularly worked with huge clients and did a lot of high-level thinking and planning – GM, Toyota, Kelloggs, DHL, AMEX, Dove, Microsoft and Nestle were all our indirect clients at one time or another.
Another agency client was Tim Horton's. This was back in 2014, when the Canadian coffee and donut chain served just that: coffee and donuts. No potato wedges, no spicy chicken wraps, no roast beef sandwiches. They were just on the cusp of introducing paninis and had a big ad takeover of Yahoo Canada planned to make the announcement.
Our job was to design a game that allowed users to play and win prizes, including a top prize of free paninis for a year. The game was called Panini Pileup, and within days of going live, it had driven almost two million users to the Tim Horton's website. In addition to creating the game, we were tasked with steeling the website for an epic inflow of traffic and devising novel ways to ensure that people couldn't cheat (Tim Horton's can only give away so many free sandwiches!)
Evolving as a company
It was around this time that our model began to change. The golden age of working with agencies as the behind-the-curtain, outsourced digital production shop was coming to an end. Agencies recognized the tech boom was here to stay and began hiring their own in-house digital designers and directors.
Luckily for us, word-of-mouth chatter over the years had brought Lush Concepts a solid roster of clients we could call our own. Many of the people we worked with on the ad agency side eventually began working directly for big-name brands, and they still wanted to work with us. So, instead of working behind the curtain as larger agencies got accolades for our work, we now started working directly with the big brands.
One of our first big direct client wins was the Sesame Street Workshop. We created a series of fun, educational games for kids – Grover would help you count, Big Bird identified shapes with you, and it all took place on the Sesame Street website.
By 2012, Lush had grown to 14 employees and was headquartered in an expansive office on Queen Street East near the Distillery District. Some wonderful relationships started at around this time, including Lush's work with Kuration, a digital agency that would become a long-term partner.
The company's goal was to tap into the global pool of creative talent by working with a wide swath of talented designers from around the world – something that today is more commonplace, but back then was groundbreaking.
To this day, we continue to create a whole stable of websites and offerings with Kuration and Peter's team, including The Great Canadian Wilderness (Ontario Tourism), Santa's Village, Deerhurst & Horseshoe Resorts, and Distributel.
Going remote – before it was cool
We were working with some wonderful clients, but at the same time, Lush's large size meant the type of work we had to pursue was changing. The types of projects we needed to win in order to maintain the overhead became larger, riskier, and had a very long sales cycle. At the same time, many of my team members were entering a new phase of life, having kids, settling down, and in many cases moving out of the city and working remotely.
In 2017, I decided it was time for the business model to completely change and inaugurated Lush as a virtual studio. Our entire team now works remotely.
It's a new way of working that has borne unexpected fruit for Lush. Before the pandemic tied us to our home offices, I used to occasionally work at a Dark Horse coffee shop in the Canary District, a little pocket of shops beside the Distillery District in Toronto.
There was a smoothie bar next door called FUEL+, and I'd pop in to grab a drink once in a while. I'd usually get to chatting with the owner, Chester. It was a friendship that blossomed into a happy business relationship — we ended up building a personalized customer loyalty app just for FUEL+.
The future for Lush
We're living in a different world than when I got my start, and it's been wild to see technology develop at such a breakneck pace — and to develop and change along with it.
Back in the day, we were testing our work on Netscape and Internet Explorer; today we're optimizing our projects for smartphones and exploring budding new technologies like blockchain, web 3.0, and decentralized applications. It's work that's kept us curious, learning, and constantly on our toes for two exciting decades.
Here's to two more.